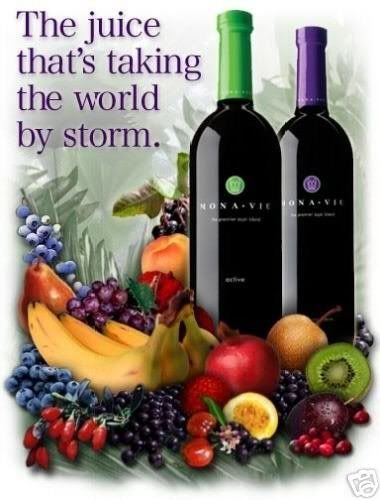 Acai berries are all the rage recently and mostly from celebrity reviews.  Acai ( pronounced "Aye-sigh-eee" ) is now available in a variety of forms, such as dietary supplement pills, juice blends, and more at stores for the average consumer.  The Acai berry is so popular nutritionally speaking because it is a powerhouse of antioxidants. What is all the celebrity hype over it?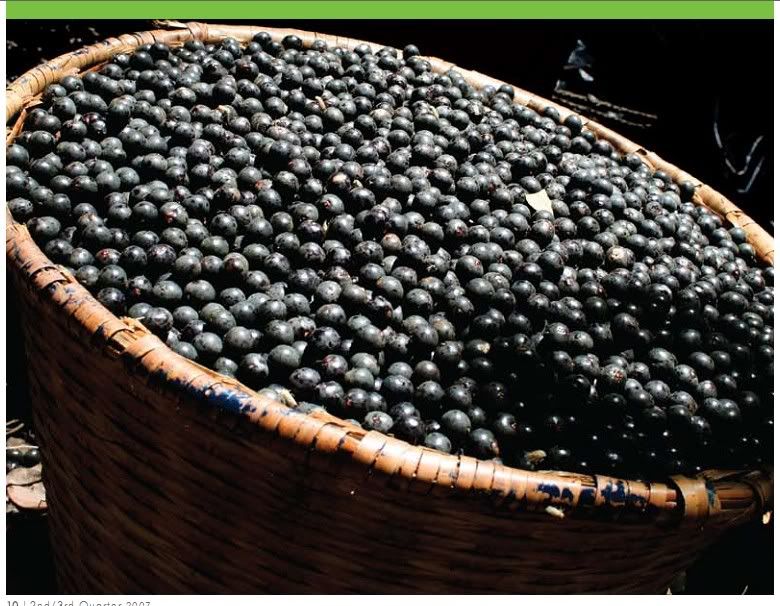 Antioxidants are fighters of free radicals ( better known to me as "reactive oxygen species"). You see, oxygen is good and bad. If you have ever cut open an apple or left a banana out for more than 2 minutes, you will see the effect of oxygen when it reacts with the enzymes in the food. Browning! Think of this browning reaction when oxygen, in its "superbad" form, reacts with cells inside your body. Cells browning, eww! Alright, your cells may not really turn brown, however, oxygen can react with all the important constituents of cells like membranes, nucleic acid, and proteins to cause changes or damage to said tissues. This damage may be minor or it may cause such mutations that lead to cells uncontrollable division aka CANCER! Other diseases thought to be due to oxidative damage: Heart Disease, Parkinson's Disease, Alzhemiers…..
Antioxidants prevent or rather neutralize the free radicals (these damaging oxygen species) before they can cause damage, essentially, preventing things such as cancer from forming.
Simple terms: Consume Fruits and Vegetables with High Antioxidants Liberally!

Now I divert back to the Acai.  First its blueberries, then its pomegranates, then Goji Berries and now Acai!
 Why Acai?
The antioxidant hype over this berry from the Amazon is involved with its ORAC ratings from its freeze-dried fruit form. You may not have heard of ORAC which stands for the Oxygen Radical Absorbence Capacity. You can think of it as a measure for the antioxidant power in whatever item is being measured.
The ADA has lists of ORAC's for many foods, afterall antioxidants are in a ton of foods: potatoes, juice, apples, curry powder, spices, tomatoes, tortillas, cereals, rice bran, nuts… the list goes on. You can access that list here: http://www.ars.usda.gov/SP2UserFiles/Place/12354500/Data/ORAC/ORAC07.pdf .
If you do check out that list, notice that almost all of the foods on it are "fresh" , mostly "produce" or typically considered "healthy", desirable foods. We want to consume foods with high ORAC scores because they will protect our cells, thus reduce our risk of disease!
The USDA recommends 5-9 servings of Fruits and Vegetables daily. I'm sure we all have heard this, however, they also recommend ORAC intake between 3,000 and 5,000 units. The average american consuming 5 servings a day will only take in on average around 1750 ORAC units.
ORAC Average Values for Common Foods ( per serving size):
Acai Juice, 8 fl oz. – 1770
Pomegranate Juice, 8 fl oz. – 2,900
Apples ( Raw Fuji)- 2,589
Blueberries- 6,500
Cabernet Sauvignon, 5 ounce- 5,000
Baking Chocolate- 49,000
Acai Freeze Dried-170,000
Cinnamon- 287,000
Cloves-314,00
(values obtained by oracvalues.com, other values vary based on serving size and type of fruit such as freeze dried, or 16 fl oz vs. 8 etc)
All the hype seems to be more nonsense to me! You can see above, the Acai freeze-dried only, has well over the ORAC as other foods. That is a supefood! However, you can also see that you could easily get your 3,000-5,000 recommend ORAC units worth of antioxidants from eating an apple with cinnamon or just one delicious glass of Cabernet! Most people fall short of their ORAC units because they pick lower antioxidant containing produce OR just do not consume enough in general! That is an easy dietary fix that can drastically reduce your risk of disease!
The fame that lends itself to the Acai Craze, is that only stars like Oprah can obtain it due to the insane expensiveness and complications obtaining it vs. say a bottle of cinnamon!  The true Acai berries themselves can only be obtained through special order from a company based in the amazon called "Sambazon" which freeze dries it and you have to go to a specific location to pick it up! The freeze-dried goodies must be quickly refrozen to prevent rancidity as high antioxidants usually coincides with quick perishing! 
Acai Palms of the Amazon:


So other companies found ways to extract acai berries and/or their beneficial properties to create varieties such as dietary supplement pills or juices that contain some form of acai and are available in grocery stores and supplement stores here in the U.S. Unfortunately, these products such as the first juice listed, don't really compare to the ORAC units in the outrageously expensive freeze-dried form. If you can afford these look-alikes,  go ahead because you will be getting some great Omega 3′s and plenty of ORAC units but honestly, it seems more of a waste of money than anything!  Consumers should be aware they can behealthier by obtaining their ORAC units through plenty of other foods that are less expensive and just as tasty!!